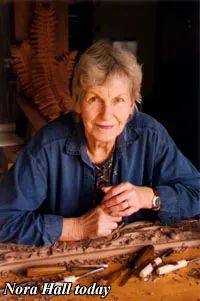 Nora Hall is a European-style woodcarver. She also happens to be one of the premier woodcarvers in the United States. The story of her life — growing up in the Netherlands, enduring Nazi occupation, hiding Jews and dissidents in their home, becoming the first woman woodcarver in the country, and then coming to America with only $14, moving around, and finally settling in Troy, Michigan — is the stuff of legends. In fact, Woodworker's Journal (the print version) featured Nora and her story in its April 2000 edition. But for Nora, the present and future are far more interesting topics.
Surprisingly, Nora feels like she's only recently achieved a level of success and notoriety for her work with the completion of carvings for the Symphony House in West Bloomfield, Michigan. That's given her a steady flow of commissions that keep her busy.
Nowadays, when Nora begins a project for a house, she usually meets with the architect first to hear his or her ideas. If it's a door panel she's working on, the house's owners often send her pictures of doors they've seen. Then she makes eight to ten sketches of different subjects and approaches. Once they make a decision, she works up a very detailed drawing & sometimes for both sides of the door. One of her regrets is that she isn't a furniture maker and must depend on a cabinetmaker to create the structure for her panels.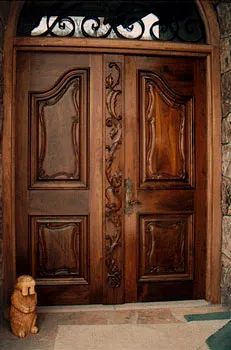 When she started teaching carving, Nora discovered that one of the weaknesses of carving in America is that so many carvers are self-taught.
"Over the centuries in Europ,e groups of woodcarvers worked together. It was passed from one generation to another. Woodcarvers were only paid a little more than furniture makers in Europe, so they were usually poor. If you made a mistake you would have to redo it, and if things broke off you would have to glue it back on. They couldn't lose any time with bad habits so they developed the most efficient way of carving. When you make your cut, you make sure that it's right and doesn't break any piece out & that means you understand the grain. I remember telling my dad that I would never learn the grain, but by copying the way he did it, it only took me one day to learn!"
In her classes, she helps students "unlearn" some of the bad habits they've picked up along the way. "My method is hard to describe, and you have to see it being done. People copy it and carve like I carve. In my classes I tell my students, right from the beginning, that they have to work with both hands. When I was learning, I thought that would be too hard for me, but it took me only an hour, and I didn't even know the difference. And within an hour my students don't know any different. They are amazed how much easier it is. And I teach them to carve with small cuts so they always have complete control. Like the old masters, I know you must have control of the tool so it does not run away and take things off that you don't want. So that is the secret & control of the tool. They progress a lot faster than they would when doing it the wrong way."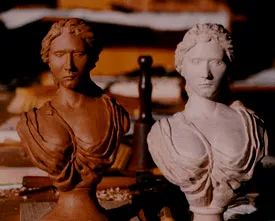 When Nora realized she couldn't reach every carver in America, she decided to develop a set of videos with step-by-step instructions. So around eight years ago, her son used a camcorder to capture her techniques, but the quality of their first attempt was unsatisfactory. When they hired professionals, Nora went through the four stages of carving a lion's head, but the camera angles, lighting, and quality were still wrong. Finally, she invested in her own camera and turned to her other son, who had experience creating videos, to produce the series.
"The best approach was to film a closeup of my hands, so they could see what I'm doing," Nora recalled.
Her videos are available on her web site, which also offers information on her classes, tools for sale, tips, patterns, even plaster casts of her work for carvers to study.
Nora was 18 when she became her father's apprentice, but she doesn't think a carver has to start young.
"I know a carver in California who started at age 60." She explained, "He had a heart problem, and his doctor didn't give him long to live. But he quit his job and started carving. He made beautiful birds and lived for a long time, eventually creating a carving museum in San Luis Obispo."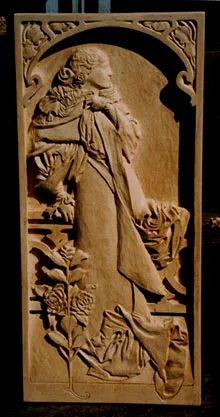 Age is no obstacle for Nora today. And being so busy gives her reason to do what she enjoys most.
"It is so relaxing when you are carving," she explained, "You go to the workbench and forget all stresses of everyday life. You don't think about your problems. You have thoughts, of course, but at a different level and you get a lot of inspiration and ideas. God is telling me things when I carve that I should not forget. Things are in a completely different context. If I don't carve, I get nervous. When I was sick one time, I had to go look at my workbench. We are all created in the image of God, and we are happiest when we create things."